Red Cross
Yfke Sturm has been the Ambassador of the Dutch Red Cross since 2006.
For her work as a model she travels all around the world. She has always had the ambition to work with a worldwide organization and her focus is on children. Most recently she started her own fund, together with the Red Cross, called: 'Yfke for Kids'.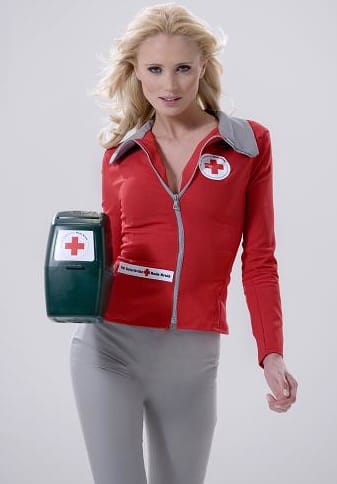 In cooperation with the Red Cross funds she will be invested in projects to help and support children that need help the most.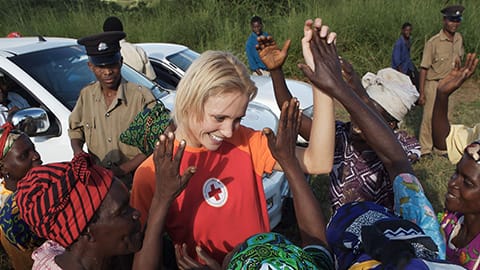 One of her trips for the Red Cross was to Malawi (South East Africa), Yfke visited several projects supported and initiated by the Red Cross. She traveled around Central Malawi, North of the Capital Lilongwe, for 4 days.
This is one of the poorest parts of the world, where the circumstances for the population are very hard. In Malawi one out of 5 children dies before celebrating the 5th birthday. In most cases death is caused by diseases like malaria, tuberculosis or because of aids.Yfke visited health posts of the Red Cross that focus on treating these diseases. Besides that the Red Cross builds creates water wells, distributes malaria nets, vaccinates children and educates on information about preventing cholera, aids and malaria.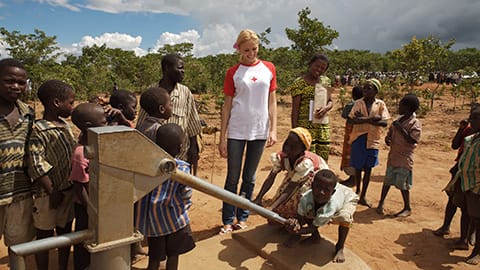 During this journey Yfke was able to meet with lots of children who were already helped by the Red Cross, but she also met those kids who were still in desperate need of more help. That's why she joined forces with TOV Essentials and created a Charity Bracelet for the Red Cross to help raise money and especially awareness for all the children in need worldwide.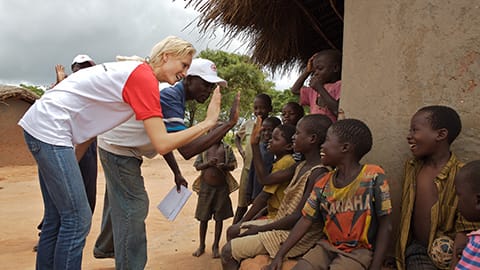 The idea of a charity bracelet popped up when she got a little bracelet as a gift from a friend. The tender gesture made her think;why not create a similair pieve of jewelry for the Red Cross? Her friend from TOV essentials were totally excited by the idea and together they designed the bracelet that is handcrafted in Florence at the TOV ateliers.
The bracelet is a fine piece of jewelry made out of (Red Cross) red coloured string with a small tag with a double finishing and with a little stone for an elegant touch.
The idea behind the charity bracelet is that it is a bracelet for every day. You don't need to take it off while showering or going to the gym. Wear it every day and night and remember of the good things you can do for people an especially children in need.

You can buy the bracelet here at Shortlist-ID

Yfke also raises money and spreads awareness of "Yfke 4 Kids" by auctioning of exclusive photographs of herself on ebay, with 100% of proceeds going to her charity. All pictures were signed by Yfke and the photographer.

Together with the ambassadors of Red Cross she followed a workshop first-aid. The first minutes are critical and that's why it's important to do the right things. For more information to learn on this subject go to www.redcrossfirstaidtraining.co.uk/

She has done a commercial for them as Hollands Next Top collector during collect week that the Red Cross has every year.
At last she just went to Mongolia for the telvision program 'Goude Kanjers'. She visited various waterkiosk built by the Dutch Red Cross together with the Postcode Loterij. The show will be on air in the beginning of November 2012 on RTL4.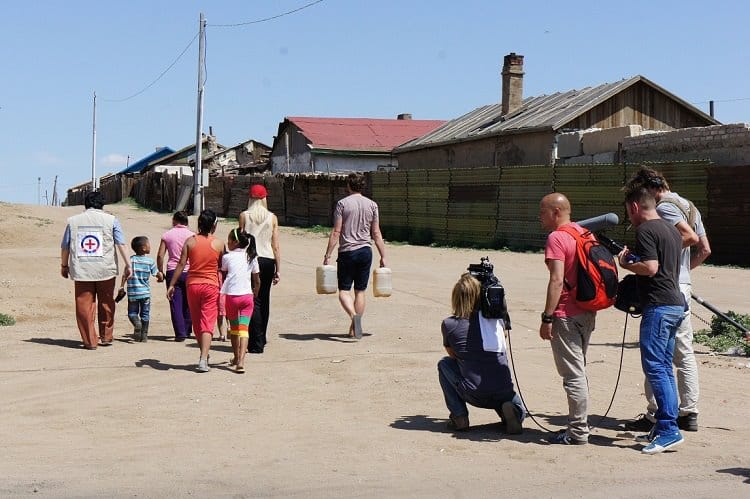 Also like to help? You can donate money to:

The Red Cross 'Yfke 4 Kids'
ING bank
Tournooiveld 6
2511 CX
The Hague, Netherlands
IBAN code NL26ING0669113700
Swift code INGBNL2A